GET TO KNOW YORK1
We're proud to be one of North America's oldest environmental and infrastructure companies.
PEACE OF MIND
PERFORMANCE
Since 1950, our customers have counted on us to get the job done right. That means staying true to our tradition of service excellence, by working smoothly, safely and sustainably. It also means delivering in the same dependable way—time and time again. That's peace of mind performance, our promise to you.
SEVEN DECADES, NINE COMPANIES, ONE STORY
Our 70-year history is built on the amazing journey of three generations of enterprising families in nine successful companies. Today, these nine companies are one united family, serving communities and businesses as York1.
1950
Rumble Foundations, which becomes a York company in 2019, is launched by George Rumble.
1963
Santo Guizzetti and his three partners begin York Excavating and Grading with just four trucks. What they lacked in machinery they made up for with ambition, hard work, and dedication.
1968
After five years of operating out of Santo's house and garage, York Excavating and Grading moves into its first commercial office at 8 Tangiers Road in North York.
1978
York starts work on a milestone project: Roy Thomson Hall in downtown Toronto. The company now boasts an equipment fleet of 25 trucks and other pieces of machinery.
1980
York breaks ground on another important project, the Metro Toronto Convention Centre, which continues to be the country's leading conference venue.
1985
With the commencement of the Scotia Plaza project, York sets the record for the deepest excavation in Canadian history – 110 feet deep!
1986
York's portfolio of marquee projects grows when it lands the coveted SkyDome project, now known as the Rogers Centre. This turned out to be the largest excavation in downtown Toronto, with more than one million cubic metres of soil moved.
1988
York marks 25 years of continued growth. The York team is now 30-employees strong.
1997
York begins working on the Air Canada Centre, now known as the Scotiabank Arena, home to the Toronto Raptors and the Toronto Maple Leafs.
2008
By now, York is established as an industry leader with proven expertise in small- to large-scale excavations backed by a 68-piece equipment fleet and powered by more than 50 employees.
2010
York moves into a 25,000-square-foot office at 125 Villarboit Crescent in Concord.
2012
Work begins on the Pan Am Aquatics Centre. In the same year, York Environmental Solutions LP is created as an affiliate company to York Excavating. The new company addresses the needs of construction and land development clients with services such as soil remediation, recycling, haulage and disposal.
2013
At 28 Bathurst Street, York undertakes one of the largest soil remediation projects in Toronto involving lead contamination and hazardous soil.
2016
York enters the site preparation business with the launch of York Demolition LP. This new addition positions York to deliver infrastructure services at nearly every stage of the construction process.
2017
York maps out a new growth strategy that will see it evolve into an integrated environmental and infrastructure services business, through organic growth and acquisitions.
October 2018
York acquires SC Disposal, a five-year old company founded in North York by Alex and Spencer Shafran. This move expands York's operation to include full-service waste management and recycling services.
May 2019
York builds on its waste management and recycling capabilities with the acquisition of Trillium Recovery, an Etobicoke, Ontario-based company founded in 2006.
August 2019
York welcomes Triple Waste Management to the family - a move that brings the Millwick Transfer station into York's network of facilities and creates a platform for further growth and opportunity. Focused on waste collection and recycling, Triple Waste was founded by Vince Mora in 2010.
September 2019
York expands its infrastructure capabilities by acquiring Rumble Foundations, a shoring and foundations systems company. George Rumble and Santo had become competitors as well as good friends as they grew their businesses over the decades. The acquisition of Rumble brings together a second generation of enterprising individuals: Santo's sons Dan and Andrew, and George's son David.
January 2021
A strategic partnership with Fengate Asset Management gives York the capital it needs to continue advancing its growth strategy.
March 2021
Two months later, York acquires Toronto-based MCS Group, further broadening York's portfolio of services to include hydro excavation, CCTV sewer inspection and flushing, directional drilling, detailed excavation and site services.
January 2022
York1 expands its environmental capabilities by acquiring ACES Waste Management (Muskoka) Ltd. Founded in 1972 ACES is one of the leading waste management services companies in Muskoka, Parry Sound and Haliburton areas.
April 2022
York1 welcomes the Budget Group to the team. The addition brings scrap metal recycling to the portfolio of services and expands the capacity of demolition and bin rentals.
May 2022
United Environmental joins the York1 team. The addition brings 3 strategically placed transfer stations and expands our bin rental capabilities.
TODAY
York, Triple Waste Management, Rumble Foundations, Trillium Recovery, SC Disposal, MCS Group, ACES Waste Management, Budget Group and United Environmental all bring their brands together as York1. With nine firms and more than 800 employees united into one, York1 stands as a leader in environmental and infrastructure services, powered by 70 years of experience, expertise, and excellence.
A LEGACY OF JOBS DONE RIGHT
Through our work, we've helped communities and businesses with some of the most iconic architectural structures and major cleanups in Canadian environmental and infrastructure history.
Coxwell Bypass Tunnel
Coxwell Bypass Tunnel York1 is helping to build the 10.5-kilometre tunnel, which will divert combined sewer overflow from entering Lake Ontario and the Don River.
Ashbridges Bay Treatment Plant Outfall Tunnel
Ashbridges Bay Treatment Plant Outfall Tunnel Located beneath Lake Ontario, the 3.5 kilometre-long outfall tunnel will help clean up the city's shorelines and beaches with treated water.
Peel Tunnel
Peel Tunnel The 2.2 kilometre-long tunnel is helping develop residential areas in Mississauga by delivering improved and refreshed water to houses and apartments in Peel Region.
Metro Toronto Convention Centre
Metro Toronto Convention Centre York1 provided infrastructure services for Canada's largest convention facility.
Rogers Centre
Rogers Centre During its construction, York1 took part in the largest excavation in downtown Toronto history, removing 1 million+ cubic metres of earth.
Scotia Plaza
Scotia Plaza York1 participated in one of the deepest excavations in Canadian history, digging out 110 feet of earth to make room for the Scotia Plaza.
Scotiabank Arena
Scotiabank Arena Having received over 40 industry awards, the arena remains one of the most renowned venues in Canada.
CN Tower
CN Tower Standing 553.3 metres-high, this modern wonder of the world was the tallest freestanding building until 2007.
WORKING WITH THE BEST
BRINGS OUT OUR BEST
We're honored to have the trust of some of the most respected organizations in North America.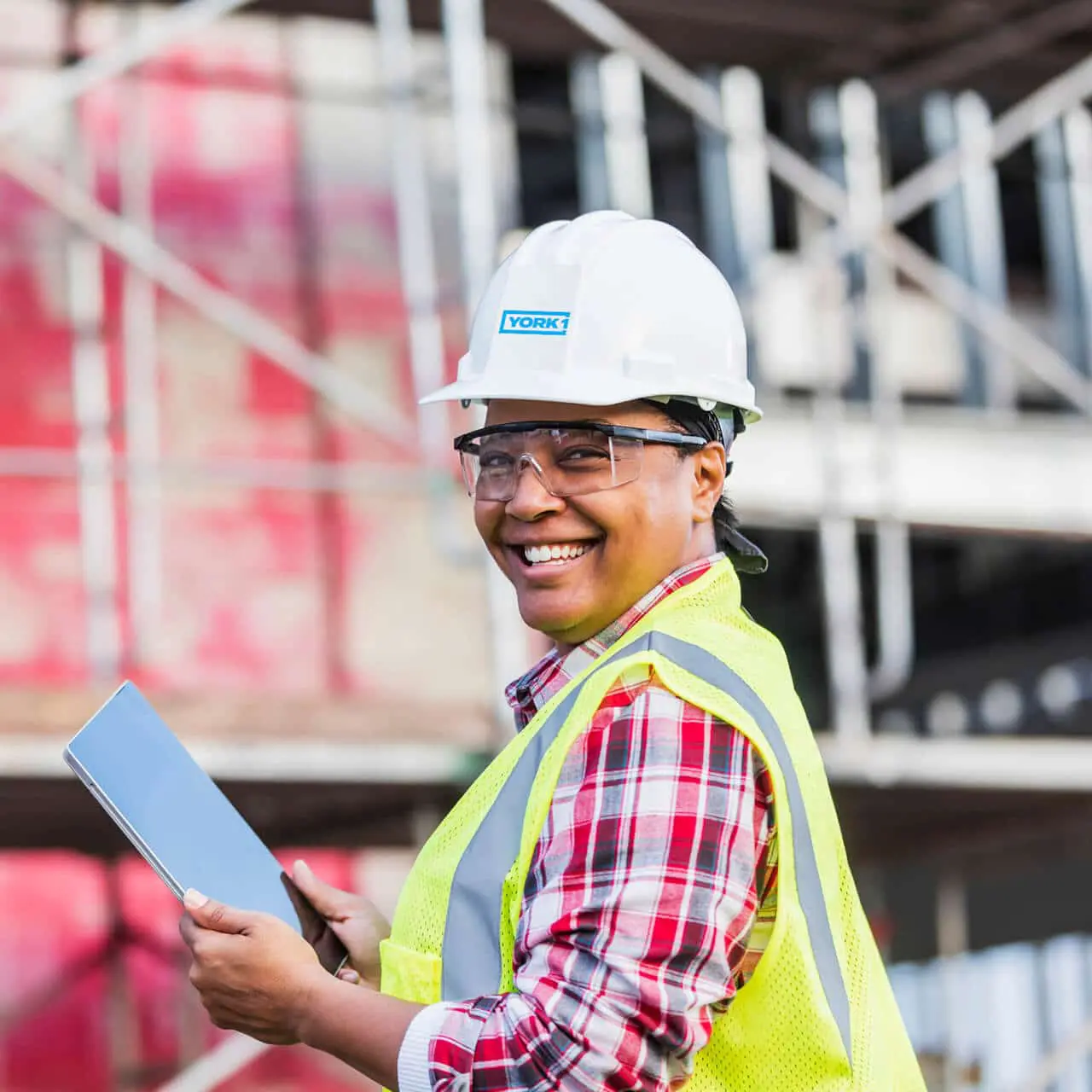 Join York1
Want to build a career with a company that cares? Come join our team.
What's New
York Group of Companies Unites Under the York1 Brand

VAUGHAN, ON, October 25, 2021 Today, York Group of Companies, a leading provider in infrastructure and environmental services in Ontario, unveiled its new brand identity and name change to York1. Along with the name change, the company launched a new …

Read more