We offer complete remediation and restoration services for a variety of contaminated site conditions, with a focus on the management of impacted soil and water.
Contaminated Site
Remediation Programs
We have extensive experience in effectively managing large and complex contaminated site remediation programs, including management and treatment of contaminated soil and water. Our mission is to provide service excellence, executing all tasks seamlessly, while prioritizing safety and sustainably. If you need assistance in managing hazardous and non-hazardous soil generated during construction and land development projects, we are here to be your reliable partner. With our expertise and dedication, we guarantee successful outcomes that meet your needs and exceed your expectations. 
Contact us today to work with our contaminated site remediation experts, embark on your journey towards safe and efficient management of your contaminated site. 
Excavation & Management of Contaminated Soils
As an experienced remediation contractor, our team conducts contaminated site remedial excavations with experience and focus required to reduce the cost of contaminated soil management and minimize risk for the owner during site works.
Expertise and Experience

: With a proven track record as a leading remediation contractor, YORK1 brings a wealth of expertise to every contaminated soil project. Our experienced team has in-depth knowledge of excavation techniques, soil management protocols, and regulatory requirements. This ensures that your project is handled efficiently, effectively, and in compliance with industry standards.

Cutting-Edge Technology

: We leverage the latest advancements in excavation technology to optimize the removal of contaminated soils. Our state-of-the-art equipment, innovative tools, and techniques enable us to streamline the process, minimize disruptions, and accelerate project timelines. This commitment to innovation ensures that your project is completed efficiently without compromising quality.

Regulatory Compliance

: Dealing with contaminated soils requires navigating a complex landscape of environmental regulations and permitting processes. We have a proven track record of successfully managing regulatory requirements, ensuring that your project remains compliant at every stage. Our team's familiarity with local, provincial, and federal regulations minimizes potential delays and keeps your project on track.

Health and Safety Priority

: We prioritize the health and safety of all stakeholders involved in the project. We maintain strict safety protocols to mitigate potential risks associated with contaminated soil management. Our team is trained to adhere to the highest safety standards, creating a secure working environment that safeguards both personnel and the surrounding community.

Cost-Effectiveness

: Recognizing the financial implications of contaminated soil management, YORK1 is committed to delivering cost-effective solutions. Our streamlined processes, efficient resource allocation, and value-driven approach work together to minimize the overall project cost without compromising the quality of our services.

Transparent Communication

: Open and transparent communication is a cornerstone of our approach. Throughout the project, we keep you informed about progress, challenges, and any necessary adjustments. This ensures that you have a clear understanding of the project's status and can make informed decisions based on real-time information.

Sustainability and Environmental Stewardship

: We are dedicated to sustainable practices and environmental stewardship. We employ eco-friendly strategies to manage contaminated soils responsibly, including proper disposal methods and recycling options whenever possible. By choosing us, you're contributing to a cleaner environment and a greener future.
ON-SITE & OFF-SITE BIOREMEDIATION OF HYDROCARBON IMPACTS
We have the in-house knowledge, and experience in both on-site and off-site bioremediation and chemical oxidation techniques specifically designed to address hydrocarbon impacts. Through the use of specialized microorganisms and environmentally friendly processes, we facilitate and enhance the natural breakdown and removal of hydrocarbon contaminants, revitalizing the affected areas.
Expertise and Experience:

We bring a wealth of in-house knowledge and hands-on experience in the field

s

of

chemical oxidation

and bioremediation

.

Our team of professionals, who have

a track record

of successfully managing hydrocarbon impacts, is aware of the complexity of hydrocarbon pollution and has the technical

know-how

to put effective solutions into practi

c

e.

Our comprehensive understanding of specialized microorganisms and environmentally friendly processes ensures that we can

offer customized

solutions

that

delivering

optimal

results

Customized Solutions:  We recognize that every hydrocarbon contamination scenario is unique. Our approach is not one-size-fits-all; instead, we develop customized solutions based on a thorough assessment of your specific needs and site conditions. This personalized strategy ensures that our bioremediation and chemical oxidation techniques are precisely tailored to the type and extent of hydrocarbon impacts, maximizing efficiency, and minimizing disruption. With YORK1, you can expect a solution that's designed to fit your project's exact requirements.
Environmentally Responsible Practices: We take pride in our commitment to environmentally friendly processes. YORK1 prioritizes the use of  on-site and off-site soil treatment technologies to facilitate the breakdown and removal of hydrocarbon contaminants. By choosing YORK1, you're not only addressing hydrocarbon impacts effectively, but you're also making a positive contribution to the environment and sustainability. Our approach aligns with responsible stewardship of the ecosystem, ensuring that the areas we remediate are not only revitalized but also left in a more sustainable state.
OFF-SITE SOIL TREATMENT, BENEFICIAL RE-USE AND/OR DISPOSAL
Our commitment to sustainability drives us to explore innovative approaches such as off-site soil treatment, beneficial re-use, and responsible disposal. By partnering with trusted industry experts, we ensure that contaminated soil is treated, recycled, or disposed of in compliance with environmental regulations, minimizing waste and maximizing resource utilization.
Expertise and Compliance: We bring extensive expertise and industry experience in soil treatment and disposal. Our deep understanding of environmental regulations ensures that contaminated soil is managed in full compliance, minimizing potential risks and liabilities.
Efficiency:  Our YORK1 facilities and use of innovative technologies enable us to offer efficient soil treatment and re-use. Our state-of-the-art equipment ensures thorough rehabilitation of soil, while our processes optimize resource utilization and minimize waste generation.
Resource Optimization and Sustainability:  Our commitment to beneficial re-use aligns with our sustainability goals.

By transforming contaminated soil into clean and beneficial resources, we help to optimize resource use

and

reduce the need for new materials

.

Transparency and Reporting for Accountability: Transparent reporting practices provide us with detailed insights into the soil treatment and disposal processes. This transparency allows us to track progress, assess environmental impacts, and communicate our sustainable practices effectively to stakeholders.
INSTALLATION OF ON-SITE PASSIVE & ACTIVE TREATMENT SYSTEMS
For long-term remediation and ongoing management, we offer the installation of on-site passive and active treatment systems. These cutting-edge systems are designed to proactively monitor and treat contaminated areas, providing continuous protection against further contamination while promoting environmental sustainability.
Expertise in Remediation: YORK1 brings seasoned experts who excel in setting up and managing on-site treatment systems, ensuring effective outcomes.
Cutting-Edge Technology: We employ advanced treatment methods for efficient and sustainable contamination management.
Sustainable Solutions: Our systems provide ongoing protection, addressing current issues and proactively monitoring remediated areas to protect against the risk of future contamination. 
Tailored to Your Needs: We provide customized solutions, perfectly aligning with specific site conditions, optimizing performance and costs.
Innovation and Reputation: Our innovation and solid track record underscore our dedication to remediation excellence and environmental responsibility.
GROUNDWATER & SURFACE WATER MANAGEMENT
Our expertise extends to the management of both groundwater and surface water. Through rigorous monitoring, analysis, and tailored treatment approaches, we effectively address contamination issues to mitigate contaminated plume migration and manage surface water runoff. While minimising liabilities, our goal is to manage contaminated water in a way that protects the communities we live and work in.
Health and Environmental Safeguarding: YORK1's solutions prioritize the well-being of both human populations and ecosystems, aligning perfectly with our commitment of safeguarding human health and preserving the environment.
Wholistic Expertise: We offer extensive proficiency in managing both groundwater and surface water, providing a comprehensive approach to contamination mitigation and environmental protection.
Rigorous Monitoring and Analysis: Our commitment to rigorous monitoring and thorough analysis ensures early detection and precise assessment of contamination, enabling effective and timely intervention.
Tailored Treatment Strategies: We excel in developing customized treatment strategies that efficiently address specific contamination challenges, minimizing plume migration risks and enhancing water quality.
Proven Track Record: Our successful track record in managing contaminated water underscores their ability to deliver effective and reliable results, enhancing our confidence in achieving our management objectives.
Innovation and Compliance: YORK1 works with industry specialists at the forefront of innovation in water management and treatment, ensuring adherence to evolving environmental regulations and the application of state-of-the-art techniques.
SEDIMENT & EROSION CONTROL
Preserving the integrity of aquatic ecosystems is paramount to us. Our comprehensive sediment and erosion control measures safeguard water bodies and prevent the spread of contaminants. Through the implementation of erosion control techniques, sediment management strategies, and innovative technologies, we protect sensitive environments and expedite the natural processes that restore and enhance the natural restoration of impacted land.
Comprehensive Restoration Approach: Going beyond conventional methods, we offer a comprehensive approach to restoration. Our strategies encompass a harmonious blend of erosion control techniques, sediment management strategies, and habitat revitalization efforts. This multi-faceted approach ensures not only immediate protection but also nurtures the long-term vitality of water bodies and the surrounding ecosystem.
Eco-Responsible Expertise: We stand out for our unwavering commitment to eco-responsible practices in sediment and erosion control. We bring a wealth of experience, ensuring that your project benefits from well-honed expertise tailored to safeguarding aquatic ecosystems and preventing the spread of contaminants.
Innovative Conservation Solutions: We pride ourselves on pioneering advancements in sediment and erosion control. By seamlessly integrating cutting-edge monitoring, modeling, and mitigation technologies, we deliver solutions that are as forward-thinking as they are effective, all while adhering to the highest standards of environmental stewardship.
Proven Sustainability Leadership: We have a proven record of leadership in sustainable sediment and erosion control. Our successes are testament to our genuine commitment to minimizing environmental impact and fostering natural restoration. By choosing us, you align with a partner that champions responsible practices, making a meaningful contribution to preserving the environment for current and future generations.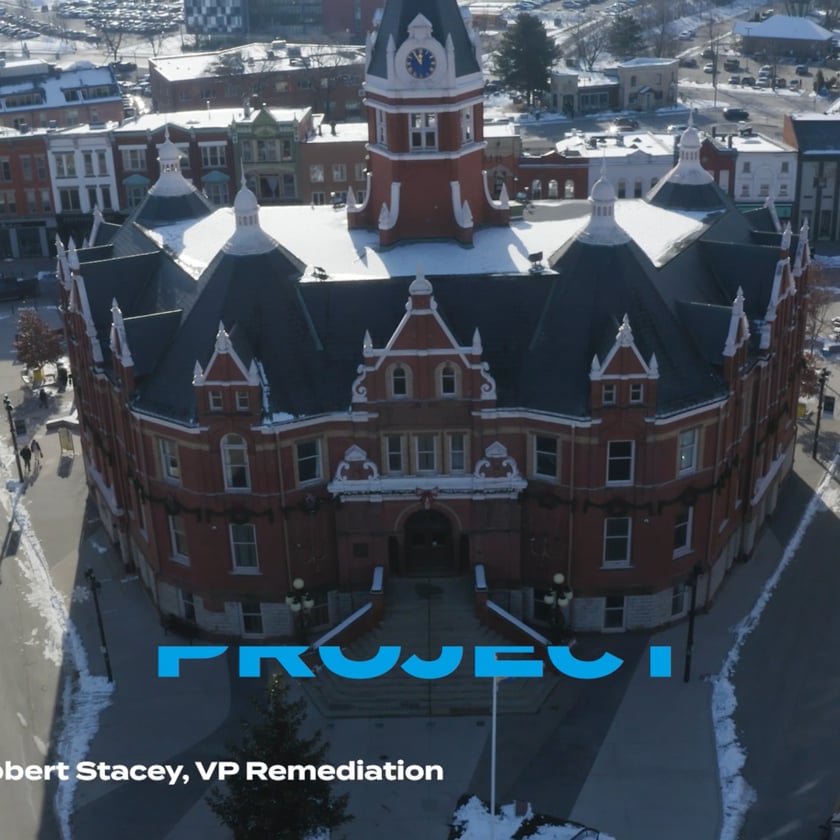 Coxwell Tunnel Project
YORK1 was responsible for the loading, transportation, and beneficial re-use of approximately 1.5 million tonnes of soil and rock from the Coxwell Tunnel project.
Victoria Park Landfill
YORK1's scope of work included site surveying, clearing, and grubbing, construction of access roads, erosion, and sediment controls, control of stormwater, dewatering sediment ponds, re-location of methane system, off-site disposal of 80,000 metric tonnes of contaminated soils, earthworks, grading, Rapid Impact Compaction, importation of approximately 200,000 metric tonnes of clean engineered fill, berm construction, installation of slope retention systems, supply and, installation of topsoil and hydroseed.
BATHURST STREET SITE REMEDIATION
The team was involved with the largest environmental clean-up in Toronto,  approximately $25 million at the Refiners and Smelters site on Bathurst Street.