YORK1 is your go-to waste disposal expert, catering to a wide range of clients, from homeowners and municipalities to general contractors, landscapers, and renovators. Whether you need residential garbage pick up or assistance with major hauls during construction projects, our dedicated team is here to provide efficient and reliable solutions.
Efficient and Sustainable Waste Management Services:
Prompt, Affordable, and Eco-Friendly Solutions
We understand the importance of maintaining a clean and sustainable environment, which is why we offer a comprehensive range of services to meet your waste disposal and recycling needs. Whether you're a homeowner, a business owner, or a contractor, we have you covered with our efficient and reliable services.
We offer Dumpster Rentals for projects of all sizes, along with convenient business waste pick up and drop-off locations. Additionally, we provide reliable residential waste pick up services. Our aim is to provide comprehensive waste management solutions to fulfill your needs.
Let us take care of your waste management needs, so you can focus on what matters most to you.
Discover the Ultimate Dumpster Bin Rentals for Effortless Waste Disposal and Recycling!
Welcome to YORK1 Waste Collection your top-notch solution for hassle-free waste disposal. Our convenient roll-off dumpster rental services cater to both residents and businesses, offering a seamless waste management experience. Whether you're embarking on a home renovation project or overseeing a construction site, our wide array of dumpster sizes guarantee the perfect fit to handle your waste efficiently. 
Convenient Roll-Off Dumpster Rentals: Our user-friendly roll-off dumpsters are designed to simplify your waste disposal process. With easy access and loading, you can efficiently get rid of all your debris and waste, making cleanup a breeze.

 

Diverse Range of Sizes: No matter the scale of your project, we've got you covered. Choose from our wide range of dumpster sizes to find the perfect fit for your specific needs. Whether it's a small home renovation or a large-scale construction site, we have the ideal dumpster size to match your requirements.

 

Prompt Same-Day Delivery: We understand the urgency of waste removal, and that's why we offer fast and reliable same-day delivery service. When you need a dumpster on short notice, you can count on us to get it to you promptly, ensuring you can get started on your project without delay. Call us before 9:00 am and book your bin delivery for same-day service!

 

Easy Online Ordering: Our streamlined online ordering process allows you to book and pay for your dumpster rental from the comfort of your own home or office. Avoid the hassle of phone calls and paperwork, secure your dumpster with just a few clicks.

 

Upfront Pricing: We believe in transparency. You can trust that our pricing is upfront and honest, with no hidden fees or surprises. We provide clear and competitive pricing for all our dumpster rental services.

 

Timely Pick Up Service: Once your project is complete, we won't leave you waiting. Our team is dedicated to ensuring timely pickup, so you can have your space cleared and move on to the next phase of your project without delay.

 

Reliable Waste Management Solutions: We take pride in our commitment to providing trustworthy and dependable waste management solutions. Our experienced team ensures that your waste is disposed of responsibly and in compliance with all regulations.

 
Experience the YORK1 Waste Collection difference fast service, same-day delivery, online ordering, and upfront pricing, all paired with our convenient roll-off dumpster rentals and reliable waste management solutions. Contact us now to book your dumpster and enjoy a smooth and stress-free waste removal experience. 
Construction Debris Removal
Looking to dispose of construction debris generated during your remodeling, demolition, or construction project?
Order a YORK1 dumpster bin to effectively eliminate dirt, concrete, and other types of debris. Place an order for a container suitable for your job site, available in the following sizes: 14-yard bin, 20-yard bin, and 40-yard bin.
Transparent Upfront Pricing: At YORK1 Waste Collection, transparency is key. We believe in honest business practices, which is why our pricing is upfront and transparent. Say goodbye to hidden fees and surprises, and experience clear, competitive pricing from the start.

 

Fast and Efficient Service: Time is of the essence, and we understand the fast-paced environment on a job site. You can count on us for fast service, including same-day delivery options. We prioritize promptness so that you can begin your project without delays.

 

Large Service Area: No matter where your project is located, we've got you covered. Our extensive service area ensures that we can cater to customers far and wide, providing efficient dumpster rental and waste management solutions wherever you are. Click here to see a map of our 

general service area.

Tailored Solutions: We take pride in providing tailored solutions that perfectly match your specific job site requirements. Choose from our most common 14-yard, 20-yard, and 40-yard bin options, or feel free to discuss your unique needs with us, and we'll be happy to offer alternative options to ensure a seamless fit for your project. 

 

Eco-Friendly Approach: We are deeply committed to environmental conservation. Our waste management practices prioritize recycling and sustainability. We diligently sort and recycle materials, diverting as much waste as possible from landfills. By choosing us, you are contributing to a greener future, reducing your carbon footprint, and promoting responsible waste disposal. Together, we can make a positive impact on the environment and create a cleaner, healthier world for future generations.
Metal Recycling - We Buy Your Unwanted Metal: Get rewarded for choosing sustainable waste management solutions! Lower your project cost by turning your unwanted scrap into cash in your pocket. 

Safety: When you choose YORK1 Waste Collection, you can rest assured that safety is our top priority. Our team is well-trained in handling waste and dumpster bins, ensuring that all safety protocols are followed during delivery, pickup, and throughout the waste disposal process. We maintain high standards of safety to protect both our customers and our team, providing you with Peace of Mind Performance and a worry-free waste management experience.

 
With our fast service, sorting and recycling initiatives, metal rebates, professional approach, large service area, diverse dumpster sizes, and transparent pricing, we deliver the highest quality solutions to cater to our valued customers. Contact us today to enjoy a seamless waste management experience that benefits both you and the environment! 
Garbage Drop off Locations
Discover the hassle-free way to dispose of your trash and recycle responsibly with YORK1 Transfer Stations.
Our full-service garbage dumps, also known as Transfer Stations, are strategically located across Ontario, catering to homeowners, business owners, and contractors alike. Embrace a cleaner and greener approach to waste management and bid farewell to clutter responsibly!
Trash Disposal Made Easy! Our full-service garbage dumps also known as Transfer Stations are available throughout Ontario.
Extended Operating Hours: We understand that your schedule may not always align with regular business hours. That's why our Transfer Stations offer extended operating hours, providing you with greater flexibility to drop off your waste at your convenience. Click Here to Learn More. 
Safety Traffic Controllers: Your safety is our utmost priority. Our Transfer Stations are staffed with trained safety traffic controllers to ensure a smooth flow of vehicles, keeping you and other visitors safe during drop offs and pick ups.

 

Paved Yards: Navigating through unpaved yards can be challenging, especially during inclement weather. Our paved yards offer easy access and maneuverability, making your trash disposal experience effortless.

 

Fair Pricing: Accurate weight measurements mean you only pay for the waste you dispose of, no more and no less. With our provincially regulated scales, you can trust that our pricing is fair and transparent, and there are no surprises when it comes to the cost of waste disposal.

 

Compliance and Accountability: Operating with provincially regulated scales showcases our commitment to compliance and adherence to all relevant waste management regulations. You can have confidence in our responsible approach to waste disposal and know that we are held accountable for our practices.

 

Reliable Data: Whether you are an individual, business owner, or contractor, having reliable weight data for your waste is essential for record-keeping and reporting purposes. Our regularly tested scales ensure the accuracy of the data you receive for your waste management records.

 
Construction waste

From drywall and roofing shingles to metal, cardboard, counters, tiles, flooring, carpet, and pressure-treated lumber - we accept a diverse range of construction materials.

Household Items

Dispose of furniture, electronics, bicycles, appliances, clothes, old lawn equipment, and dry food waste with our reliable service. 

Inert Fill

Got residential dirt and sod, concrete, gravel, brick, or mixed rubble (broken down to a soccer ball size or smaller)? We're fully equipped to handle it all.
Food Waste

Do your part for the environment by responsibly disposing of organics, restaurant waste, refrigerator waste, and green bin waste.

Yard Waste

From trees and shrubs to landscape materials and leaves, our Transfer Stations are ready to receive your yard waste.

Special Request

Need to dispose of tires or railway ties? We're here to help with our specialized waste management solutions. Ask us about how to safely dispose of contaminated soil and asbestos. 
Our quick and reliable solutions cater to the unique waste management needs of businesses, allowing you to focus on running your operations smoothly while we handle the proper disposal of your commercial waste.
If you require multiple services for multiple waste streams, we offer front-end collection with a range of bin sizes (2, 3, 4, 6, 8 yards) for waste, organics, blue box, and cardboard. We also provide scheduled collections with flexible options such as monthly, weekly, daily, or every other week, catering to your specific requirements.
Furthermore, we extend our services to condo corporations, managing multiple waste streams from tri-sorters, ensuring efficient waste management.
Additionally, we offer hauling services to businesses that own or lease their own waste equipment. This includes grocery stores with compactors, where we can assist in the transportation of waste materials.
 

Front-End Collection for Versatility: Our dumpster bin rental service offers a range of bin sizes (2, 3, 4, 6, 8 yards) to accommodate various waste streams, including waste, organics, blue box materials, and cardboard. Enjoy the flexibility to select the perfect dumpster size that matches your specific requirements.

 

Competitive Pricing: We prioritize fair and transparent pricing. Our competitive rates extend to all our waste management services, including dumpster bin rentals, front-end collection, hauling, and specialized waste disposal. Rest assured that you can plan your waste management expenses with confidence.

Expert Services for Condo Corporations: Trust our expertise in managing multiple waste streams efficiently for condo corporations. Our tri-sorter and bi-sorter service ensures effective waste and recycling management, fostering a cleaner and greener living environment for residents.

 

Convenience with Hourly Vehicle Rental: Embrace the convenience of our Hourly Vehicle Rental Service, providing you with dedicated dump trucks or roll-offs whenever you need them. Ideal for large-scale projects or continuous waste removal needs, this service guarantees a reliable waste management solution at your fingertips.

 

Flexible Scheduling: We understand the demands of your business schedule. With our flexible waste pick up options, you can choose between monthly, weekly, daily, or every other week collections, tailored to suit your unique needs and ensure a hassle-free experience.

 

Hauling Services for Self-Equipped Businesses: If your business owns or leases waste equipment, like compactors, our professional hauling services are at your disposal. Let us handle the transportation of your waste materials, so you can allocate more time to growing your business.

 

Sustainability through Recycling Initiatives: Environmental responsibility is a cornerstone of our mission. By prioritizing recycling and sustainable practices, we not only contribute to a cleaner planet but also help reduce waste sent to landfills, leading to cost savings for your business.

 
Experience the convenience and efficiency of our Dumpster Bin Rentals for Business Waste Pick Up and Recycling. Trust our expertise to handle your waste responsibly, providing you with a seamless waste disposal experience. Contact us now to book your dumpster and take the first step towards optimizing your waste management processes with YORK1 Waste Collection.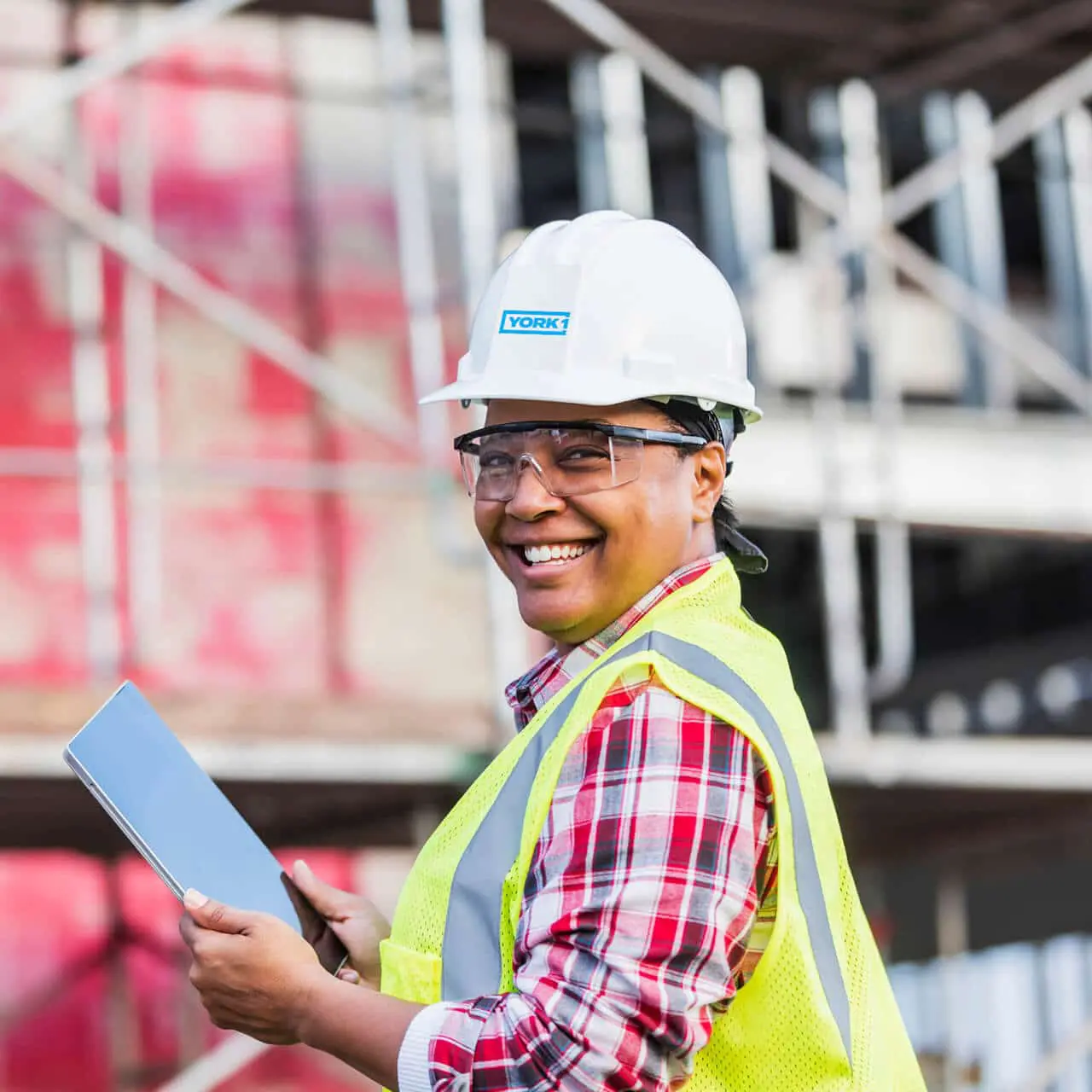 Does your business want to reduce costs and improve recycling processes? Let YORK1 help! By performing a waste audit our professional representatives will be able to break down your waste streams, provide you with detailed reports and prevent you from tossing money out of the door. Trust us to reduce your costs by improving the process and changing the way you look at garbage.
Detailed Reports: We provide you with detailed reports based on the waste audit findings. These reports offer valuable insights into your waste generation patterns, recycling rates, and opportunities for cost reduction, empowering you to make informed decisions.

 

Cost Reduction: Our Waste Audit service is specifically designed to save you money. By identifying inefficiencies and areas of waste, we can implement targeted strategies to reduce your waste disposal costs and minimize unnecessary expenses.
Enhance Recycling Efforts: A waste audit by YORK1 can help improve your recycling processes. By identifying recyclable materials that are ending up in the general waste stream, we can implement measures to increase recycling rates, supporting your sustainability goals.

 

Expert Recommendations: Trust our waste management experts to provide you with practical recommendations and strategies to optimize waste collection, consolidate collection points, and enhance overall waste management efficiency.

 
Revolutionize your waste management and take control of your waste costs and recycling efforts with YORK1 Waste Audit Services. Our thorough analysis and detailed reports will revolutionize the way you manage waste, leading to significant savings and improved sustainability practices. Don't let valuable resources go to waste! Contact us now to schedule your audit and unlock the potential for cost reduction and enhanced recycling efforts!
RESIDENTIAL CURBSIDE PICK UP
Our professional curbside collection service provides households in our communities with safe, reliable, and high-quality disposal of household trash. Count on YORK1 to offer convenient and hassle-free waste management solutions right at your curb.
Convenience at Your Curb: Say goodbye to the hassle of waste disposal! With our Residential Pick Up, you can conveniently place your household trash at the curb on designated collection days. Our reliable team will handle the rest, ensuring a seamless and hassle-free waste removal experience.

 

Regular and Reliable Service: We understand the importance of consistency in waste collection. That's why we offer regular and reliable pick up schedules, so you can have peace of mind knowing that your trash will be promptly and responsibly collected.

 

Professional and Courteous Staff: Our professional team takes pride in providing top-notch customer service. When our waste management experts arrive at your curb, you can expect courteous and efficient service, ensuring a positive and pleasant experience.

 

Sustainable Waste Management: We are committed to sustainability and environmental responsibility. Our Residential Pick Up service includes proper waste sorting and recycling, minimizing the amount of waste sent to landfills and contributing to a cleaner and greener community.

 

Community-Focused: As a locally-owned and operated waste management company, we are deeply rooted in our communities. We prioritize the needs of our residents, striving to make a positive impact on the neighborhoods we serve.

 
Experience the YORK1 Difference for Your Residential Waste Management Needs! 
We believe that efficient and reliable waste disposal should be accessible to every household in our communities. Our Residential Pick Up service ensures that you can count on us for safe, convenient, and high-quality waste management solutions right at your curb. Join our community of satisfied customers and experience the YORK1 difference for your residential waste management needs. Contact us now to learn more about our Residential Pick Up service and how we can make your waste disposal experience exceptional. Together, let's keep our communities clean, green, and thriving! 
Asbestos and Lead Disposal
We are licensed for the safe transportation and disposal of hazardous waste, including asbestos and lead. Our skilled team is up to date with Transportation of Dangerous Goods regulations, uses ministry-approved disposal sites, and carefully tracks all hazardous waste through HWIN.
Asbestos and Lead Abatement
Our expert team consists of certified professionals trained to safely remove various on-site hazardous materials, including asbestos and lead.
Strict Safety Measures: YORK1 strictly adheres to industry regulations and safety protocols, providing peace of mind that asbestos removal is conducted with the utmost care and precautions.
Packaging Guidelines: Asbestos requires careful packaging to prevent the release of harmful fibers. We provide detailed guidelines and support to ensure that your asbestos materials are properly contained and ready for transport.
Highly Trained Experts: YORK1 boasts a team of extensively trained professionals with certifications in asbestos handling, ensuring safe and efficient removal.
Safe Disposal and Transport: Safety is paramount when dealing with asbestos. Our trained professionals employ industry-best practices to handle, transport, and dispose of asbestos materials in compliance with strict regulations.
Best Pricing: We believe that responsible asbestos disposal should be affordable. Our transparent pricing ensures you get the best value without compromising on safety and compliance.
Proven Track Record: With a successful history of asbestos removal projects, YORK1 demonstrates its expertise and commitment to delivering reliable solutions.
Customer Service Excellence: At YORK1, your satisfaction is our priority. Our dedicated customer service team is always ready to address your queries, offer guidance, and assist you throughout the asbestos disposal process.
Our Asbestos Hauling and Disposal Process:
Consultation: We start with a comprehensive consultation to understand your project's specific needs and provide tailored solutions.
Packaging Guidance: Our experts guide you through proper asbestos packaging to ensure secure containment.
Transport: Asbestos is transported in compliance with regulations, using specialized vehicles designed for safe transit.
Disposal: We work with authorized disposal facilities to ensure proper, responsible disposal that meets all environmental standards.
Introducing York1 Waste Collections' Walking Floor Trailer Service. At York1, we understand that waste management isn't just a task, but a commitment to efficient, safe, and reliable waste removal. Our unparalleled service revolves around your needs, ensuring a personalized experience that goes beyond the ordinary. Whether it's bulky items, loose debris, mulch, or recycling, we can handle the heavy lifting,
With impressive weight capacity, utmost safety measures, and transparent pricing, York1's walking floor transport trailers are your answer to seamless, hassle-free waste transport, no matter the magnitude of the task at hand.
What sets these trailers apart is their unique moving floor system. Imagine a conveyor belt inside the trailer that seamlessly handles all sizes and types of waste. Whether dealing with bulky items or loose debris, this system has you covered. The moving floor system does the heavy lifting, leaving you with the simple task of loading the trailer. This not only enhances the efficiency of waste removal from your project site or business, but it also minimizes the physical strain on your team and risks off accidents. 
No matter if you're dealing with hauling heavy, bulky debris from a demolition project, transporting large volumes of recycling materials, or any other sizable material transport, YORK1's walking floor transport trailers ensure that taking on substantial jobs becomes a seamless endeavor. 
Cost Efficiency

- The design of walking floor trailers allows for optimal utilization of the trailer's space, maximizing the payload capacity. This can lead to fewer trips and lower transportation costs when compared to using roll-off dumpster bins. This not only saves you time, but it also lowers fuel costs, benefiting both your budget and the environment. Since walking floor trailers also eliminate the need for manual loading, your labour costs can be reduced. This can lead to substantial savings over time.

 

Safety

- The automated loading process of walking floor trailers minimizes the risks associated with manual handling of heavy waste materials. This can lead to a safer working environment for employees by reducing the risk of accidents and ensuring business owners peace of mind.

 

Versatility:

Walking floor trailers can handle a wide variety of waste materials, including bulk items, construction debris, organic waste, and more. The adaptable design of these trailers makes them suitable for various waste management applications.

Environmental Benefits:

Efficient waste management contributes to environmental sustainability. The controlled unloading process of walking floor trailers can help prevent spills and minimize the release of airborne particles, contributing to cleaner and safer waste disposal.